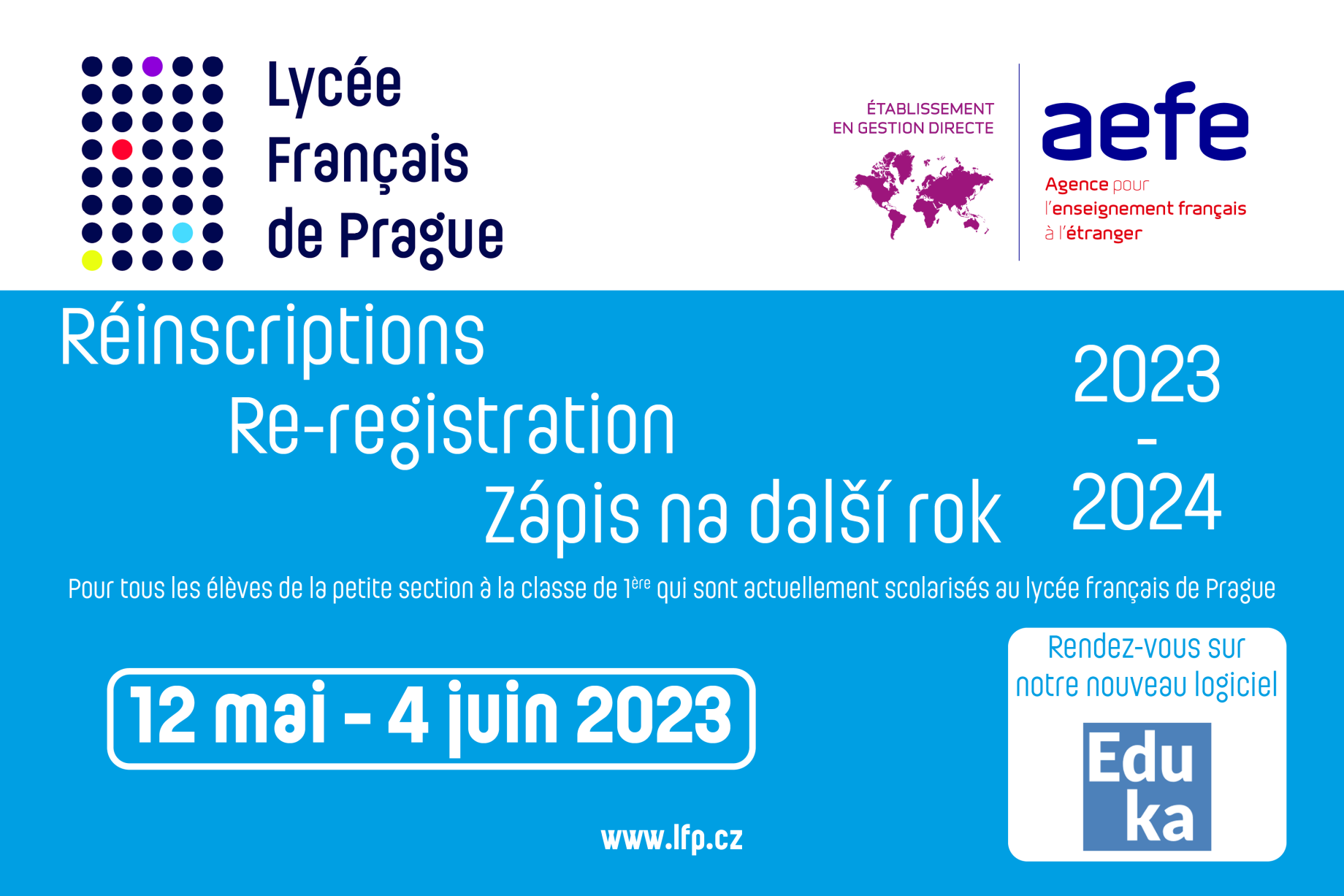 Réinscriptions 2023 – 2024
2. 6. 2023
🇫🇷 La procédure de réinscription de votre/vos enfant(s) au lycée français de Prague pour l'année scolaire 2023 – 2024 est dès à présent ouverte.
Elle se déroulera du 12 mai au 4 juin 2023. Passé ce délai, la réinscription de votre enfant ne pourra plus être garantie.
Le lycée utilise pour cette démarche un nouveau logiciel qui se nomme EDUKA. Ce logiciel sera également utilisé pour la facturation à partir de la prochaine rentrée.
Vous allez recevoir un mail de notre secrétariat vous expliquant toute la démarche à suivre pour compléter cette procédure.
Nous vous remercions par avance de votre implication et restons à votre écoute pour toute question relative à cette démarche à l'adresse : reinscription@lfp.cz
Le service des inscriptions / réinscriptions.
—
🇨🇿 Vážení rodiče,
Zápisy stávajících žáků na další školní rok 2023-2024 v Lycée Français de Prague jsou nyní zahájeny.
Proběhnou od 12. května 2023 do 4. června 2023. Po uplynutí tohoto období není možné zaručit zápis Vašeho dítěte/Vašich dětí na další školní rok.
Zápisy budou probíhat přes nový software EDUKA, který bude rovněž používán od nového školního roku pro fakturaci.
Naše oddělení sekretariátu Vám zašle email s vysvětlením, jak postupovat a dokončit tento proces.
Děkujeme Vám předem za spolupráci a v případě jakýchkoliv otázek k tomuto procesu nás kontaktujte na adrese: : reinscription@lfp.cz
Oddělení pro Zápis žáků
—
🇬🇧 Dear parents,

The re-registration procedure for your child(ren) at the Lycée français de Prague for the school year 2023 – 2024 is now open.

It will take place from 12 May to 4 June 2023. After this period, your child's re-registration cannot be guaranteed.

The school uses a new software called EDUKA for this process. This software will also be used for invoicing from the beginning of the new school year.

You will receive an email from our secretariat explaining the steps to follow to complete this procedure.

We thank you in advance for your involvement and remain at your disposal for any question relating to this procedure at the following address: reinscription@lfp.cz

The enrolment / re-registration department.
Actualités